It's happened!  My baby has started to pull to stand and moving.  Everything just seems to be happening so fast!  I can't  just cuddle and hold a cute little baby anymore, he wants to move around!  This means that I need to start thinking about shoes.  With all the different options out there it's important to know what is best for baby as they are learning to stand, cruise, and begin walking!  Here are some things that are important to know for baby's first shoes!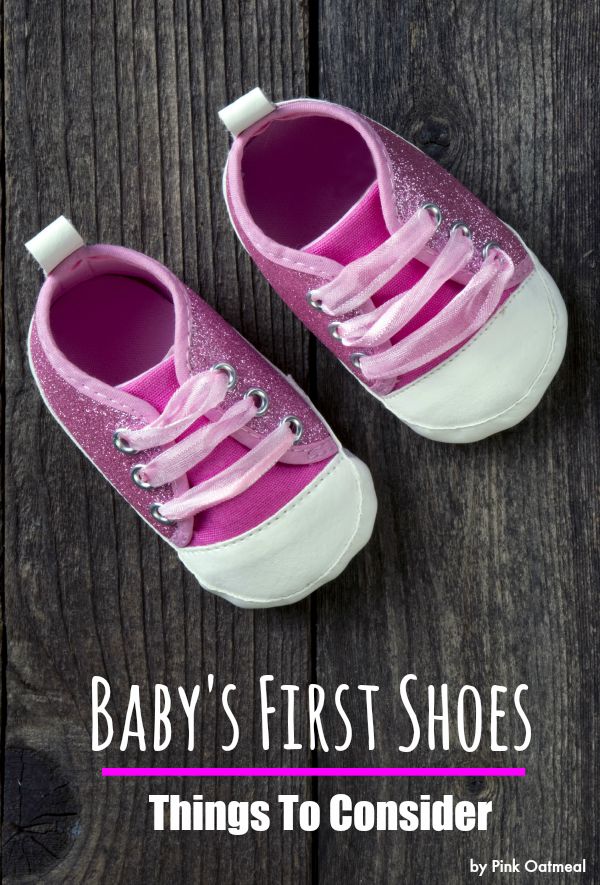 ©
This post may contain affiliate links. I only recommend products that I love or personally use.
As adults we are always looking for that shoe that gives us the appropriate support.  Then there is the arch.  How many people do you know that have orthotics or arch supports?
Research shows that a baby doesn't even start to develop an arch until they are approximately 1 year of age when the baby learns to stand upright. The truth is that childrens feet are even fully developed until they are approximately 5 years old.  That means that it is perfectly normal to see your baby with flat feet.  A baby has a fat pad where the arch of their foot is which makes them look flat-footed!  This is perfectly normal.   The fat pad becomes absorbed between the ages of 2 to 5 years.
Now knowing this we know that we don't need to worry about having arch supports in the shoes but what should we be looking for?
Consider that your baby is just learning the new skill of standing, walking, and balancing.  Your baby needs all the input that they can get from the ground to let them know where they are in space.  The way I always tell people to think of it is imagine they are suppose to walk on a balance beam.  Would you prefer to walk in your sneakers or would you want to walk barefoot?  I'm guessing your answer is barefoot.  Barefoot walking gives that feedback to let one know where they are in space when one's balance is challenged.
What does that mean for baby then?  Looking for a shoe that is as close to barefoot is what is actually best to help them develop their balance, standing, and walking.  Research has shown that, " slimmer and more flexible children's shoes do not change foot motion as much as conventional shoes."  They note that this should be recommended for healthy children in general. 
My suggestion is to look for
Flexible soft sole
and only wear them when you feel necessary.  For me, it is when we are out and baby is pulling up to stand and cruising along at baby play time.  When you feel the shoe make sure that it can bend and be manipulated easily.  The closer the shoe seems to be to barefoot walking the better.  When in the home, continue to
let your baby be barefoot
or sock footed at least so they can continue to get that much needed input baby needs to know help them continue to develop their motor skills!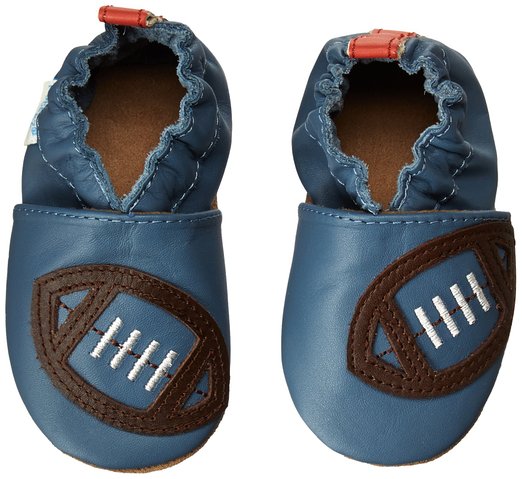 So personally, I'm probably a little too excited for shoes when my little guy should really mostly be barefoot.  For those times when I've felt the need for something on his feet I've personally been using two different kinds of shoes  I've picked up a pair of Mini Stars at Target and a pair of Robeez.  Both I've been very happy with.  They are very flexible and are as close to barefoot without actually being barefoot.  On top of that they are cute and have great options!
I WANT TO HEAR FROM YOU
Since we are talking about baby's firsts be sure to stop by and visit some other great input on baby's firsts!
Be sure to check out more about baby's firsts!
* Baby's First Keepsakes
Taking Care in Selecting that First Teddy or Blanket ~ Powerful Mothering
* Baby's First Big Moments
Baby's First Meeting of Siblings ~ Makeovers & Motherhood
Baby's First Bath ~ Let the Journey Begin
Baby's First Outing ~ Bambini Travel
Baby's First Road Trip ~ Peace but Not Quiet
* Capturing Baby's First Moments
Make a DIY Baby Book to Record Baby's Firsts (free printable) ~ Bare Feet on the Dashboard
Baby Book with Printable Onesie Iron-Ons ~ Mama Miss
* Baby's First Milestones
Designing Your Home for Baby's First Words ~ Trust Me, I'm a Mom
Potty Training at Eleven Months ~ Conceiving Piper
Baby's First Shoes – What You Need To Know ~ Pink Oatmeal