Lately C has taken a big interest in the alphabet.  He affectionately refers to it as the EFG's.  Not the ABC's, don't ask me why?  We will talk about different letters in everyday life, but by no means sit down for letter lessons yet at this time.  I do have a set of magnetic letters that I have used with my kids at school and we have some on our washing machine at home (it's really our only good place that is magnetic).  We came up with a fun way to incorporate letters into play for fun toddler letter recognition play with his sensory table.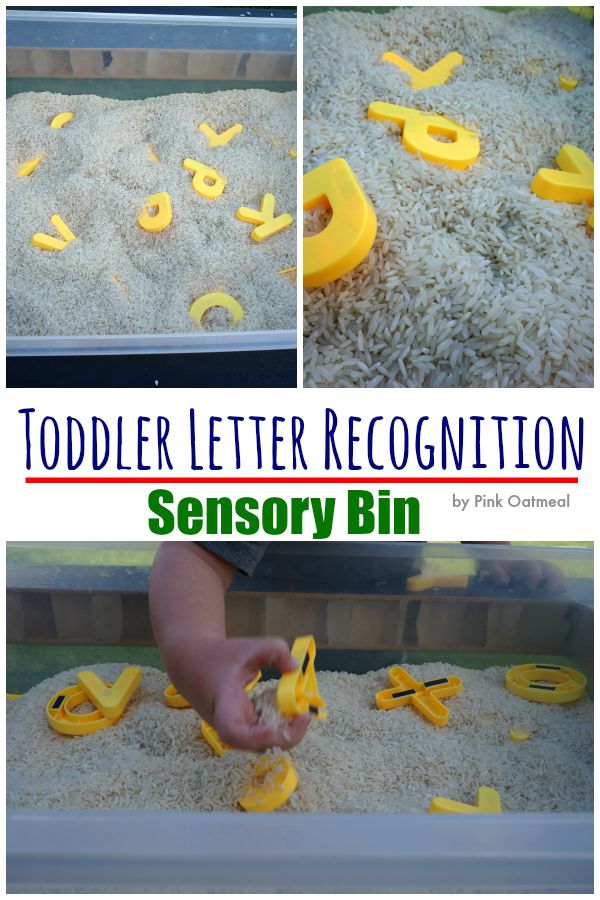 Toddler Recognition Sensory Bin
Needed: Plastic Bin or Bucket, Alphabet Letters, Sensory Medium
Simply fill the plastic bin with a sensory medium of your choice.  We have plenty of rice available around here.  I may have over bought some at Costco at one point.  Anyone else have an over buying problem there?  So, for our sensory medium I decided to use rice.  Many sensory mediums will do including sand, water, paper etc.  Next I add the alphabet letters to the bin.  I found the magnetic letters (affiliate link) worked perfect for us.  Your bin is complete!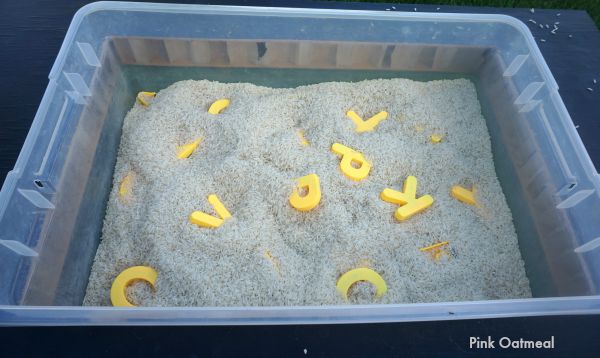 I love the aspect that C is able to explore letters of the alphabet while in play.  If he takes one out and shows me the letter I'll ask him which letter it is.  He is getting to the point where he can name some on his own now.  If he doesn't know or names it wrong I just let him know what letter it is and play continues.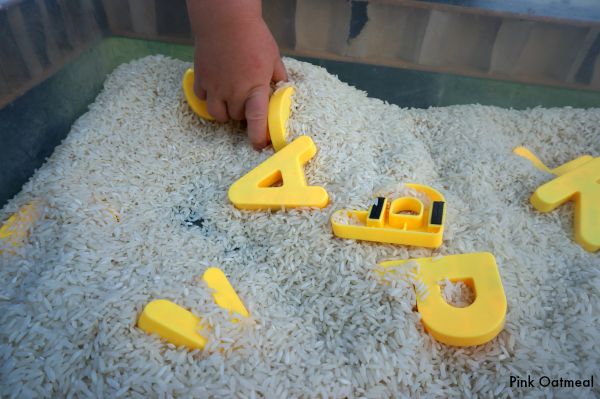 I keep it fun.  When he is done with that activity, he is done.  He is a toddler after all.  Chances are he will be back again to play.

YOU MAY BE INTERESTED IN
My store at Pink Oatmeal has ideas to get the kids moving at home, in the classroom, and in therapy!  If you prefer Teachers Pay Teachers you can find me there too with even more ideas to get the kids moving!
I WANT TO HEAR FROM YOU
Let's connect!  Pink Oatmeal is on Facebook, Pinterest, Twitter, and Instagram!