School-based therapists (occupational, physical, speech and beyond) play a crucial roll in the IEP team. With their responsibilities encompassing a wide range of assessments, interventions, and progress monitoring, efficient data tracking becomes an important task.
Fortunately, digital tools has revolutionized the way that school-based therapists can collect and analyze data, making it easier than ever to streamline their workflow.
In this blog post, we are going to talk about two popular platforms—Microsoft Forms and Google Forms—and the possibilities they offer to school-based therapists for effectively tracking and managing data.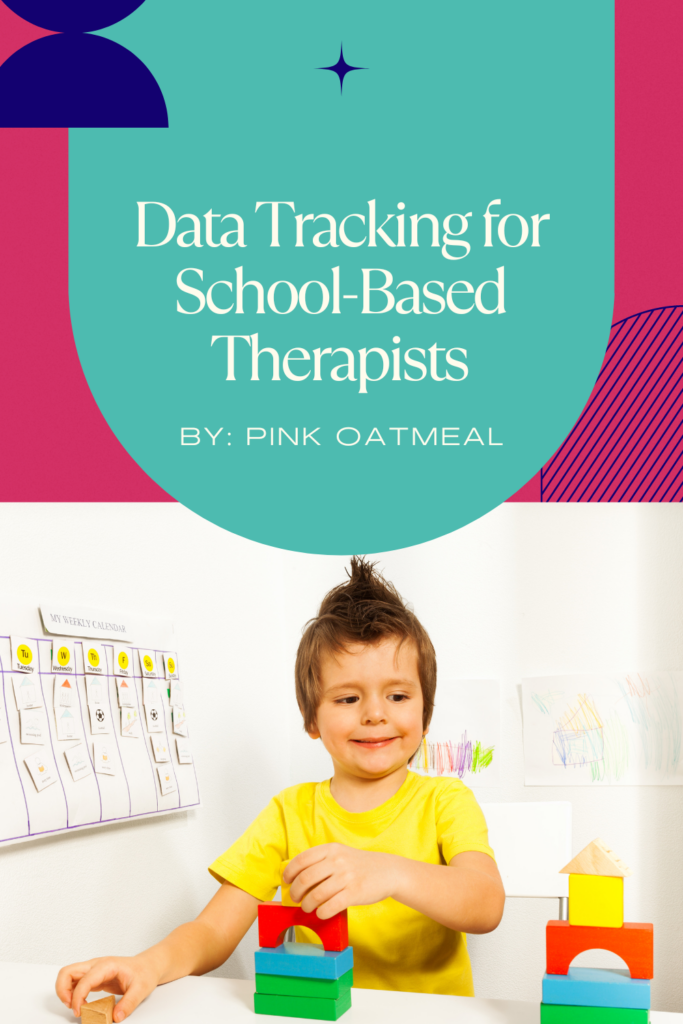 You can create these forms to share with others, but you can also create these forms to use for yourself.
Tip: Create templates, that way you can work off the same forms for different kids just making adjustments to the forms. The videos below go over this!
Google Forms for Data Tracking
Let's start with Google Forms. If you are part of a school that uses Google, this is the form option you will want to go with.
What can you track with Google Forms? Here are just a few examples.
Equipment Use Time Tracking
Training Signatures
Checklists
Rubrics
Goals/Objectives
If you can create a form for it, you can track it.
Below is a video that goes over how you can use Google Forms to collect training signatures. Below is an example of how you can do this!
The really cool part is that you will see these responses coming to you in real-time and you don't have to run around to different schools handing out forms and collecting signatures.
When you receive a response, it will appear under the responses tab.
These forms also can work as templates and you can work of the template to use this form for several different kiddos without having to re-create it each time. This is true of any form that you create in Google.
Think of the possibilities that can come with different types of forms!
Microsoft Forms
Let's move over to Microsoft Forms. If you are a Microsoft School, this would be the form choice for you.
Microsoft Forms is very similar to Google Forms in the fact that you can create forms to collect any type of data that you would like.
Below is an example of how you can use Microsoft Forms to collect a time tracking form for equipment use (in this case a stander).
Once again, you will be able to see results in real-time, create a form as a template you can use with multiple kiddos, and save yourself so much time and hassle using these forms!
Sharing Forms
Both Google Forms and Microsoft forms allow you to easily share the forms via links, emails and in some cases QR codes.
It is important to take note that when you are sharing these forms you still have remember your role in FERPA. Read more about HIPAA and FERPA for school-based therapists. You don't want these links easily accessed or laying around in QR code form where anyone can scan them.
Using Technology for Efficiency for the School-Based Therapist
In Pink Oatmeal's course we dive much deeper into how Google Forms and Microsoft Forms can help you to track data along with several other tips, tricks and programs to help you become much more efficient as a school-based therapist.
Leveraging Technology for Efficiency by Pink Oatmeal digs into all the ways you can leverage technology to improve your efficiency as a school-based therapist.
This course is broken down into 8 lessons:
The Cloud
Online Files and Documentation with Google Suite
Tracking Data and Using Google Forms
Microsoft OneNote
Tracking Data Using Microsoft Forms
Working Between Devices
Using ChatGPT for Efficiency
Free Programs for Resource Creation
This course will give you everything you need to be more efficient with technology already available to you!