The Bumbo seat is something that almost any expectant mom has heard of. You can find them on almost any baby registry. So what is all the hype about the Bumbo Seats? As a new mom I decided to do some research before I purchased the Bumbo!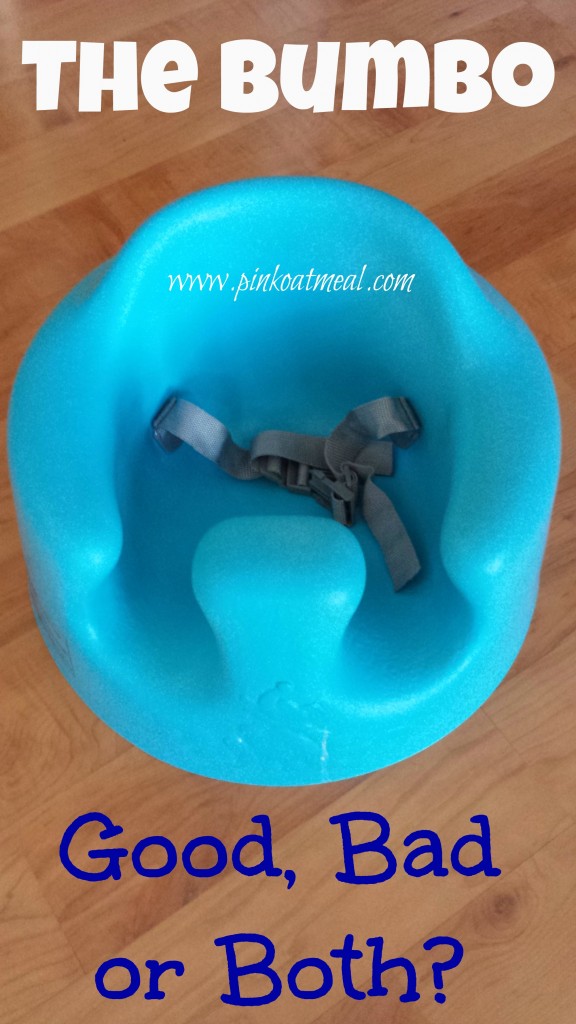 This post may contain affiliate links. I only recommend products that I love or personally use.
If you Google around you will see many different opinions on the Bumbo seat. I of course looked at different physical therapist opinions. All of these therapists have very valid points. One of my favorite posts is from Mama OT's blog. This post makes great points and goes into detail on how a Bumbo Seat can be developmentally inhibiting. I would encourage you to check out the post. It wasn't until I was pregnant and doing my own registry that I came across another post about the Bumbo Seat from Kendra The PT's blog that discussed how the Bumbo seat could be effective if used properly with the right child at the right time. It also made some great points. I encourage you to check it out.
Ultimately, I decided it probably wouldn't hurt to put one on my registry. If I got one great I could try it out for myself. If I didn't get one no loss. Well I got one and here is my two cents on the seat as both a physical therapist and a mom.
My Experience
1. I didn't get to use it as early as I thought I would.
I don't agree with the statement on the Bumbo Seat website "As soon as your baby can hold their head up you can seat them in the Bumbo Floor Seat." I just think this is too early. Here is a picture of my little guy in the Bumbo Seat. He had plenty of head control when on the floor but his position looks terrible in the Bumbo Seat. Even with good head control, he wasn't ready for the Bumbo yet.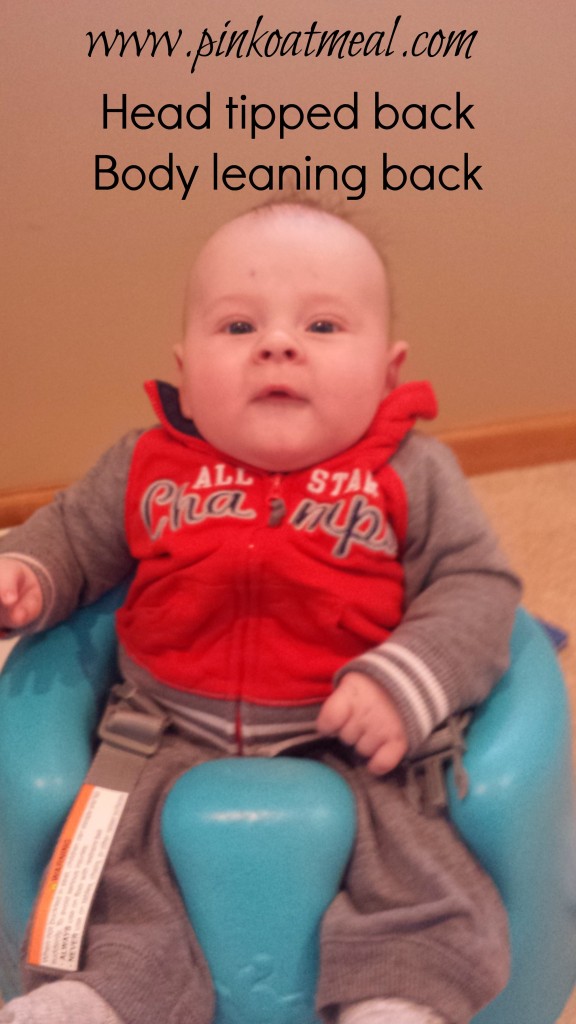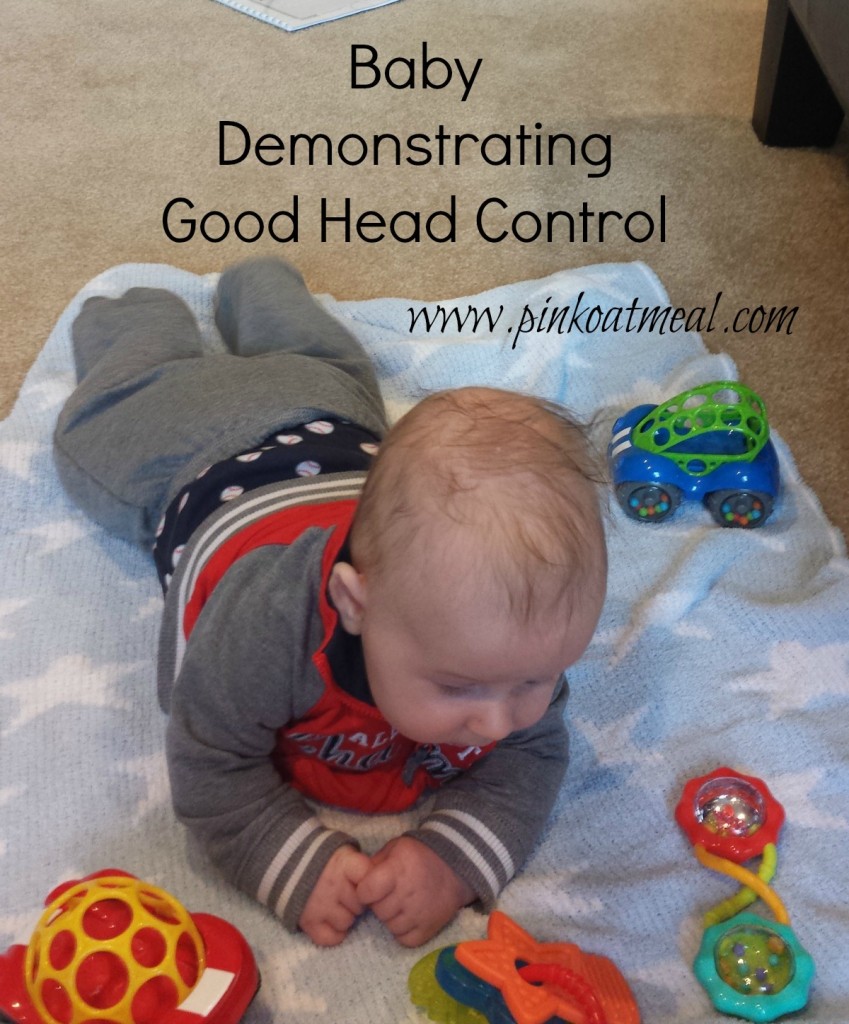 Baby can not maintain good positioning in Bumbo seat even when baby demonstrates good head control.
2. My little guy has quite a bit of chub to his legs.
I really had to shove the legs into the Bumbo. As a mom I just didn't like that. I would suspect that there are some babies who can't even ever get their legs in them if they have even more chub. I would also suspect there are babies who fit in them just fine.
3. There was a short period of time where I felt that my little guy looked good when placed in the Bumbo Seat.
I felt like at that point he had sufficient trunk control to hold himself up nicely with assistance for the seat. It was that time period where he wasn't quite able to sit independently on his own. I used it mostly for taking pictures and occasionally if I was somewhere that I needed him upright for a couple minutes and floor time wasn't an option. It seemed like very shortly after that he was able to sit independently so there really was no purpose to the seat. The time that the seat actually seemed usable for me was so very short.
4. It then brings back up the issue of it being a device that limits any kind of movement. That means that I didn't want him spending excessive amounts of time. I like the rule of 2 and 15 and tried to follow it as best I could ( I wasn't perfect!). That pretty much limited my time at to 15 minutes per day for 30 days (that was as long as it was useful at our house). That is a total at the very most of 450 minutes or 7.5 hours at the absolute maximum. Just a different way of thinking of it.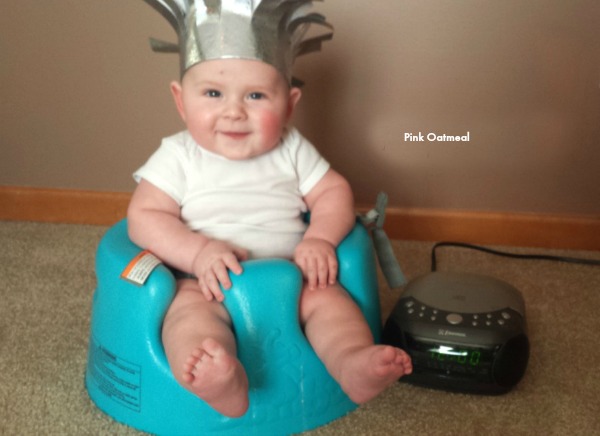 My Conclusion
I don't hate Bumbos, I just didn't find it overly useful for the cost due to the short time period. In my case, I could have put something else on my registry that likely would have been more useful. I believe for some, they may be useful in moderation, especially if it works for them to use it for longer periods of time then it did for me.
* I believe there are some therapeutic uses for the Bumbo. If you have a therapist that has instructed use of the Bumbo for therapeutic purposes follow their instructions as instructed*
Alternatives I Used
Favorite Baby Equipment
Click on each photo to see product details. Affiliate links.