So you want to start a therapy blog! Let's discuss some considerations about blogging as a therapist. These considerations are especially important if you are creating authority with your profession (OT, PT, or SLP). Before I go any further, I am not a lawyer (this is called a disclaimer we are going to discuss them in this post) and you should consult with a lawyer if you have any legal questions about starting a blog.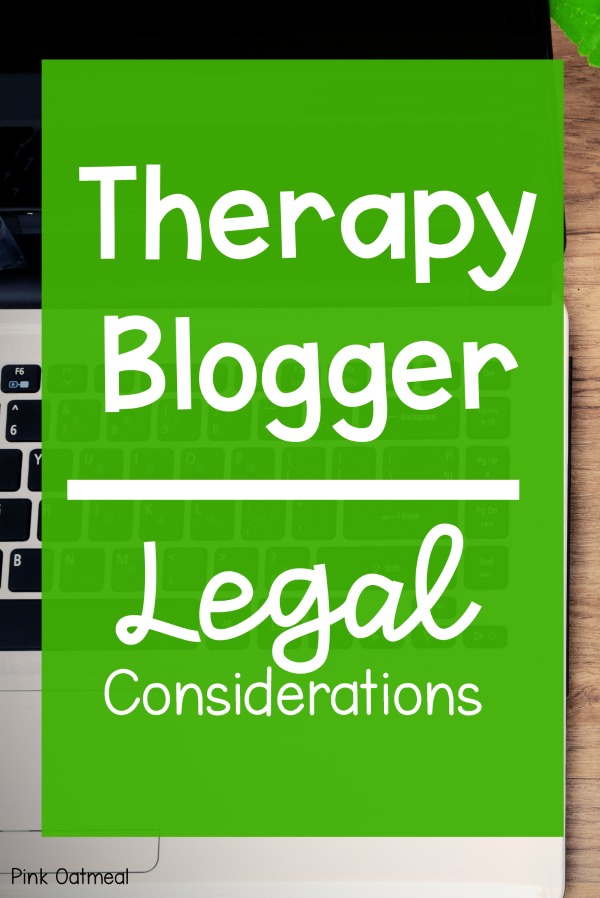 Therapy Blogger Considerations
If you are reading this post, chances are you are an OT, PT, or SLP. If you are going to write a cooking or fashion blog, you probably don't need to worry about anything that I will be sharing below (but you can always check with a lawyer on these legal considerations too). If you are sharing exercise routines, healthy living, child development, or something along the lines of what therapists are knowledgeable on you will want to consider some of the following things discussed in this post.
Establishing Authority
Chances are if you are blogging about something related to your profession you want to establish yourself as an authority figure in this area. One way of doing that is letting people know that you are a PT, OT, or SLP.
This being said, you want to make sure that you have a good visible disclaimer on your website. For example, you don't want anyone to say that they read your blog and tried some of your exercises and that you are in a patient-therapist relationship with them. Obviously, the chances are very small, but you want to make sure that you have a good disclaimer on your website. How do you do this?
Disclaimer Page
It's a good idea to have a disclaimer page on your website. You can check out my disclaimer page right here. I also opt to have my disclaimer visible on all my blog pages. If you look at the bottom of this blog post you will see part of my disclaimer at the bottom.
Product Disclaimers and Terms of Use
Many bloggers create products that they sell on their websites. May create blogs to sell these products. This is another place that you will want to consider putting a terms of use or disclaimer page. At the beginning of all my printable products I have a terms of use and disclaimer.
With any product you create you will want to create a Terms of Use. This applies to whether it is therapy related or not. You don't want people emailing your products or making copies of them and distributing them to everyone because you haven't created a terms of use. Don't forget this step in your products, no matter what you are creating.
Copyright
This is important for everyone who has a website or blog. Your work has to be original and your own. You can not steal other peoples work. This means you can't copy other people's blog posts, you can't copy products, you can't copy blog posts and you can't take other people's photos. This means that you can't go to Google images and take any picture you would like for your website or products. You can't take other people's photos and give them credit (unless you have permission). You need to make sure that if you use any images that are not your own you have the appropriate permissions to do this.
Privacy Policies
This is not exclusive to therapy bloggers. ALL websites or blogs need to have a privacy policy. This just let's people know what exactly is happening on your website. For example, do you have Google Analytics installed on your website? If you do, you need to mention this in your privacy policy. Do you have the Facebook Pixel? Needs to be in your privacy policy. Do you allow people to comment or submit their email? Need it your privacy policy. You can view my privacy policy here to get an idea of what I have in mine.
Business Formation
When you start a blog or website you may need to think about business formation especially if you are planning to monetize it in any sort of way. I started my own website as a sole proprietor (if you don't do any formal business formation you are a sole proprietor) and later moved to an LLC to separate my personal and business assets. This article gives you a brief overview of each business formation, but you will also need to look at the laws of your individual state when deciding what type of business to form.
Disclaimer – I am not a lawyer and not giving legal advice. I wanted to be sure to give you these things to consider as you are on your journey to building your website. (There it is again)
Therapy Blogging 101
I've teamed up with my fellow blogger and good friend Meredith from The Non-Clinical PT to bring to you Therapy Blogging 101. This brand and course is going to give you the tools you need to get started in the world on online entrepreneurship!